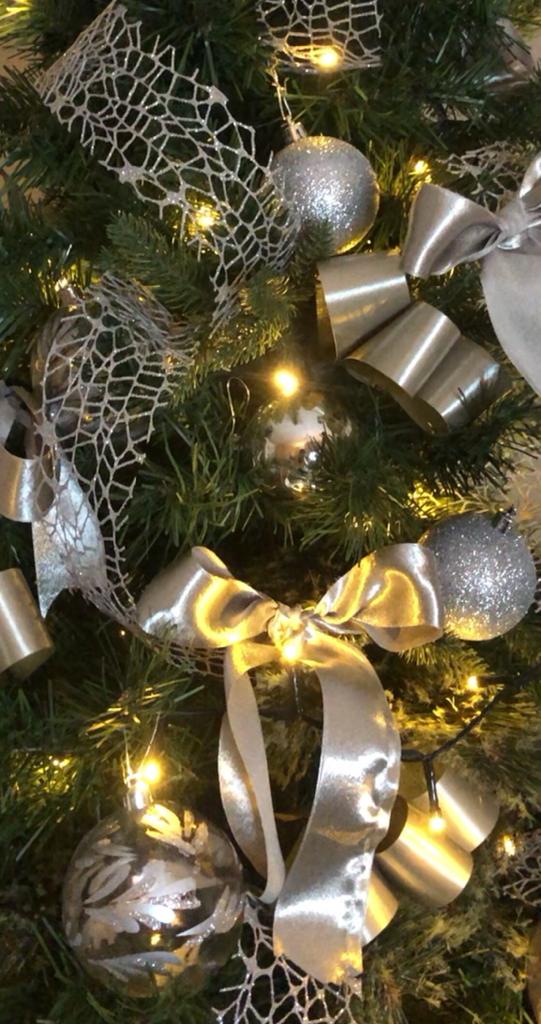 Three Ways to Decorate your Christmas Tree with Ribbon
With Christmas only around the corner, we wanted to share with you three different ways you can decorate your Christmas tree this year using ribbon. We have chosen three different ribbons for this silver and gold tree, although there are so many different ribbons on our website that you can choose to decorate your tree with this year. 
Step 1: The C shape method. For this method we have used cobweb, a gorgeous wide 60mm glitter mesh ribbon which helps to add structure to your tree decorating. To begin with, you will need to cut a 12 inch strip of ribbon, start by tucking the ribbon into a branch of your tree, then tuck the bottom end of the ribbon onto a branch one row further down. You should aim to have a bend in between both ends of the ribbon, with the ribbon forming the shape of the letter C. 
Shop Cobweb here: https://ribbonly.co.uk/products/silver-glitter-mesh-ribbon-cobweb?_pos=1&_sid=9bb2aa47c&_ss=r 
Carry on with this method all the way down the tree into a line, then repeat around the tree until it is fully covered. We have chosen to angle our ribbons slightly to give the tree more dimension, although this is personal preference and completely up to you how you wish to style your tree. 
Step 2: The bow method. This method is very simple and follows the same technique that you would do to tie a shoe lace. Start by cutting a 24 inch strip of ribbon, we have used our gloss satin in Silver Bell as it ties beautifully in a bow. Tie a knot in the middle of the ribbon and with each end form two loops, cross the loops over each other and tuck one of the loops underneath. Pull both loops and you should have a beautiful bow, this method is also called the 'bunny ear' method and is used to teach children how to tie shoe laces, we find this particularly useful when tying bows as it ensures that the right side of the ribbon is facing upwards on both loops.
You can use the link below to watch a video on how to tie a bow using this method.
How to tie a perfect Bunny Ears Bow - YouTube
Give your bow a small adjustment, ensuring that the loops are even and you are happy with the structure, then nestle your bow into a gap on your tree. Carry on this process until you have a sufficient amount of bows placed around your tree.
Shop Silver Bell Gloss Satin here: https://ribbonly.co.uk/products/gloss-satin-ribbon-silver-bell?variant=40497105043662 
Step 3: The loop method. We have used our double sided foil satin for this method, with a mushroom colour on one side and gold on another, this ribbon gives you two different options for the colour of your loops (it's like two ribbons for the price of one). 
Start by cutting a 20 inch strip of ribbon, make a simple loop out of the first third of the ribbon, then repeat the process until you have three loops that are the same size. At this point, you can either staple, glue or pin your ribbon loops into place, then pop them into the tree sporadically, filling out any remaining gaps you may have left. 
Shop Mushroom Double Sided Satin here:  https://ribbonly.co.uk/products/double-sided-foil-ribbon-mushroom?variant=40497102094542
Finally, we created a stunning centerpiece bow for the top of the tree. Fold some silver mesh fabric together until you have a rectangle shape, you should aim to have a few layers of fabric folded into your rectangle to get a full effect. Pinch the rectangle in the middle and secure with wire, you should have two triangles on each side of the pinch point, your fabric should now be resembling a bow. Tie a ribbon around the middle of the fabric, on top of your wire and secure to the tree. Simple! 
Click on the link below where you can watch all the steps listed above, enjoy!
https://cdn.shopify.com/s/files/1/0594/7382/1902/files/How_to_Decorate_your_Christmas_Tree_with_Ribbon.mp4?v=1638438266
Have a great Christmas,
Grace X